All enlisted men in the Waffen-SS wore the standard black lozenge-shaped collar patches (Kragenspiegel); the men of the Leibstandarte, like those of the other premier Waffen-SS divisions, wore the SS runes on the right collar patch (left side in the opposite view illustrations below) and the rank on the left side. Men who held the rank of SS-Schütze and SS-Oberschütze wore plain black patches, while the ranks of SS-Sturmnann and SS-Rottenführer were indicated by one and two strips of 6mm ribbon, or tresse, respectively. In early versions, these collar patches were piped with either a white or aluminium/black border, but after 1940 all collar patches for enlisted men and NCOs were unpiped.
The shoulder bars for enlisted men were also black, and piped in the service colour or Waffenfarbe of the wearer. Examples of Waffenfarbe were red for artillery, pink for panzer troops, green for mountain troops, and white for general infantry.
Unlike all of the other ranks in the Waffen-SS, the ranks of SS-Oberschütze, SS-Sturmmann and SS-Rottenführer also wore rank insignia on the upper left arm below the SS national eagle device. An SS-Rottenführer wore a 2cm woven star, while men holding the rank of SS-Sturmmann wore a single and SS-Rottenführer two 9mm chevrons of aluminium (later field-grey) thread. When new arm insignia was introduced in 1942-43 for camouflage uniforms, these three ranks retained the same insignia.
Waffen-SS Rank
Heer Equiv.
Collar
Shoulder
Arm
SS-Schütze*
1941
Schütze
SS-Oberschütze*
1941
Oberschütze
SS-Sturmmann
1933
Gefreiter
SS-Rottenführer
1933
Obergefreiter
Members of the Leibstandarte also wore the unique "LAH" cypher on their shoulder bars; for enlisted men, this design was woven in fine thread directly onto the black material, although after 1940 it was woven onto a black removable slip-on band.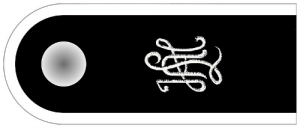 *The ranks of SS-Schütze and SS-Oberschütze replaced the ranks of SS-Anwärter and SS-Mann, which were initially introduced in 1933.