Far away from the battlefields of the Eastern Front and Normandy, the village of Vogelthal where Michael Wittmann was born on 22nd April 1914 is definitely worth a detour if you are passing through the area. While you won't find any memorials or museums, you will be able to get a idea of the peaceful, idyllic world he would grow up in.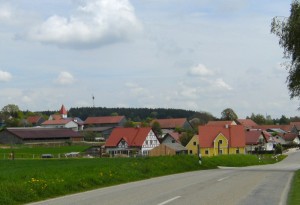 How to get there
From Nürnberg and the north, join the Autobahn A73 and then the southbound A9 (E45) heading towards Munich (München). At junction 58 "Altmühltal" take the exit towards Eichstätt/Beilngries/Kipfenberg/Kinding. Take the St2228 towards Kinding, and then the St2230 towards Beilngries. The route will take you through the Altmühl valley parallel to the river, and when you enter the village of Badanhausen turn right towards Flugplatz Beilngries, where you will join the B299. When approaching to town of Amtmannsdorf you will see signs for Vogelthal which will be on your left on the EI25/NM16.
From Munich and the south, take the northbound Autobahn A9 (E45), leaving at junction 59 "Denkendorf", the first you will reach after passing the city of Ingolstadt. Take the exit to Riedenburg/Beilngries/Kipfenberg, where you will join the St2299. Head north towards Paulushofen, and just after entering the outskirts of the settlement take the B299 on your right towards Amtmannsdorf. On the approach to Amtmannsdorf take the first left onto the EI24, followed by an almost immediate right onto the EI25 towards Vogelthal.
[ready_google_map id='5′]
Details
There is little to see in Vogelthal itself, which like in Michael Wittmann's early years remains a small rural settlement. However the village lies inside the Naturpark Altmühltal – one many scenic destinations inside Bavaria – and is a short distance from a number of historic cities including Eichstätt, Ingolstadt and Regensburg.
Address
Vogelthal bei Beilngries, Bavaria (Bayern)
48.999882 N, 11.565246 E