This is a summary of Michael Wittmann's service record, held in his personal files. It lists all of key details, including promotions. It also includes a note of his being missing in action on 8th August 1944. The document has been divided into five sections to aid with the translation of individual items and notes. All handwritten sections are in italics.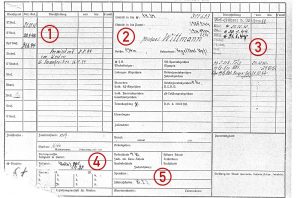 Section 1
This section covers Wittmann's promotions as an officer in the LSSAH. The chart allows for a progression up to the rank of SS-Obergruppenführer, and all three of Wittmann's promotions are listed along with the dates.
Untersturmführer: 21.12.42
Obersturmführer: 30.1.44
Hauptsturmführer: 21.6.44
Missing since 8.8.1944 on the Western front. Telegram sent 16.8.44
Section 2
Entry in the SS: 1.4.37 (311263)
Entry in the Party: [blank] (5508244)[Note 1]
(22. 4. 1914)[Note 2]
(2296)[Note 3]
Michael Wittmann
Height: 1.76m Place of Birth: Vogelthal (Oberpfalz)
This section also contains a list of awards, most which are blank. The two that have been checked are Reichsportabzeichen (Reich Sport Award) with the annotation "Br." for bronze. The Totenkopfring section has also been checked, confirming Wittmann's receipt of the award following his commission in December 1942.
Other awards listed are: SS Zivilabzeichen (SS Civil Award), Winkelträger (SS Honour Chevron), Coburger Abzeichen (Coburg Award). Blutorden (Blood Order), Gold. HJ-Abzeichen (Golden Hitler Youth Badge), Gold. Parteiabzeichen (Golden Party Badge), Gauehrenzeichen (District Honour Award), Ehrendegen (Honour Dagger), Julleuchter (Yule Lantern), SA-Sportabzeichen (SA Sports Badge), Olympia (Olympics), Reitersportabzeichen (Riding Sports Badge), Fahrabzeichen (Driving Badge), D.L.R.G. (Deutsche Lebens-Rettungs-Gesellschaft, German Life Saving Organisation), SS-Leistungsabzeichen (SS Performance Award), D.A. der NSDAP (Dienstabzeichen der NSDAP, NSDAP Service Award).
Section 3
This section repeats the record of Wittmann's three promotions as a Waffen-SS officer, and below that lists his graduations with dates:
SS J.Sch. Tölz[Note 4] 21.12.42
SS Pz. Ers. Abt.[Note 5] 24.12.42
Schw. SS. Pz. Abt. Bergen-Fallingbostel[Note 6] 24.12.42
Section 4
Civil Penalties: [blank]
SS Penalties: [illegible]
Family Status: Married
Wife: Hilde [birthday and place not present]
Party Membership / Party Activity: [blank]
Religion: (Catholic) gottgläubig
(Illegible): 1.12.37
Children (M / F): [section blank]
Section 5
Occupation: [blank]
Employer: [blank]
School: ? Kl. [all other sections blank]
Languages: [blank]
Driving Licence: Classes I and II
Proof of Ancestry: [blank]
Lebensborn:[Note 7] [blank]
Party Activity: [blank]
State Position (municipality, authority, police, industry): [blank]
Notes
Note 1. At no other point is there a record of Wittmann being a member of the NSDAP, and even on this summary sheet there is no actual date of entry. However according to other records he did eventually join the party in March 1938, with this membership number.
Note 2. Wittmann's date of birth
Note 3. Unknown reference
Note 4. SS Training School (Junkerschule) Bad Tölz
Note 5. SS Panzer Replacement Division (SS Panzer Ersatz Abteilung)
Note 6. Heavy SS Panzer Division (Schwere SS Panzer Abteilung)
Note 7. Funding and/or support for the Lebensborn ("Fountain of Life") organisation.