Michael Wittmann's Curriculum Vitae (Lebenslauf) outlining his early life and career including entry into the Waffen-SS. The first part of a series of official documents held in official archives.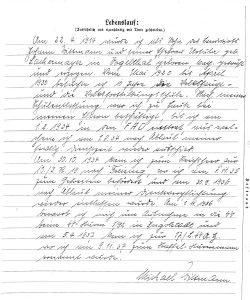 [Title]
Curriculum Vitae:
(Verbatim and handwritten in ink)
[Handwritten]
Born on April 22, 1914, the son of the farmer Johann Wittmann and his wife Ursula née Lachermayer. Born in Vogelthal, baptised and educated as a Roman Catholic. From May 1920 until April 1930 I attended junior and vocational training school, and after leaving school I lived at home with my parents. I entered the FAD[note 1] on 1.2.1934, until 1.8.1934 and the expiration of my voluntary service. On 30.10.34 I joined the 10./I.R. 19[note 2] in Freising, attaining the rank of corporal on 01.11.35 before being released again at the end of my required service on 30.09.1936. On 1.11.36 I applied for admission to the SS with the SS-Sturm 1/92 in Ingolstadt, and on 5.4.1937 was assigned to the 17./L.SS A.H.[note 3] On 9.11.37 I was promoted to Staffel-Sturmmann.
[Signed] Michael Wittmann
Notes
Note 1. Freiwilliger Arbeitsdienst (Voluntary Labour Service)
Note 2. 10th Company, 19th Infantry Regiment
Note 3. 17th Company, Leibstandarte SS Adolf Hitler